Please Read the Following Before Contacting us or completing a Quote request
Dogmovers is a Road based Pet Transporter operating within Qld, NSW, ACT, VIC and South Australia with occasional specialty services to the Northern Territory. We do not currently Service Tasmania or Western Australia or organise flights. Requests for quotes to these States or for services we do not offer will not be responded to until the Covid-19 situation ends due to crippling time constraints.
Due to the large number of incoming enquiries because of border closures and a lack of domestic flights for pets it may take a few days for us to respond to new enquiries.
As per the Map shown below we are now fully booked until Xmas for animals travelling from QLD and NSW southbound into Victoria. Limited spaces are still available for animals travelling southbound into South Australia.
Spaces on our North QLD services are limited in both directions. Southbound spaces are still available between QLD and Sydney via our Pacific, New England and Newell Highway routes.
Northbound spaces are still available on most routes however many of the remaining routes will typically be expected to be booked up till XMAS by early December.
We will resume all routes in January progressively with pick ups southbound from the 3rd January in QLD, 5th January in NSW and we are in Melbourne from the 7th January for deliveries and Northbound collections. We are currently taking bookings for all routes in the new year.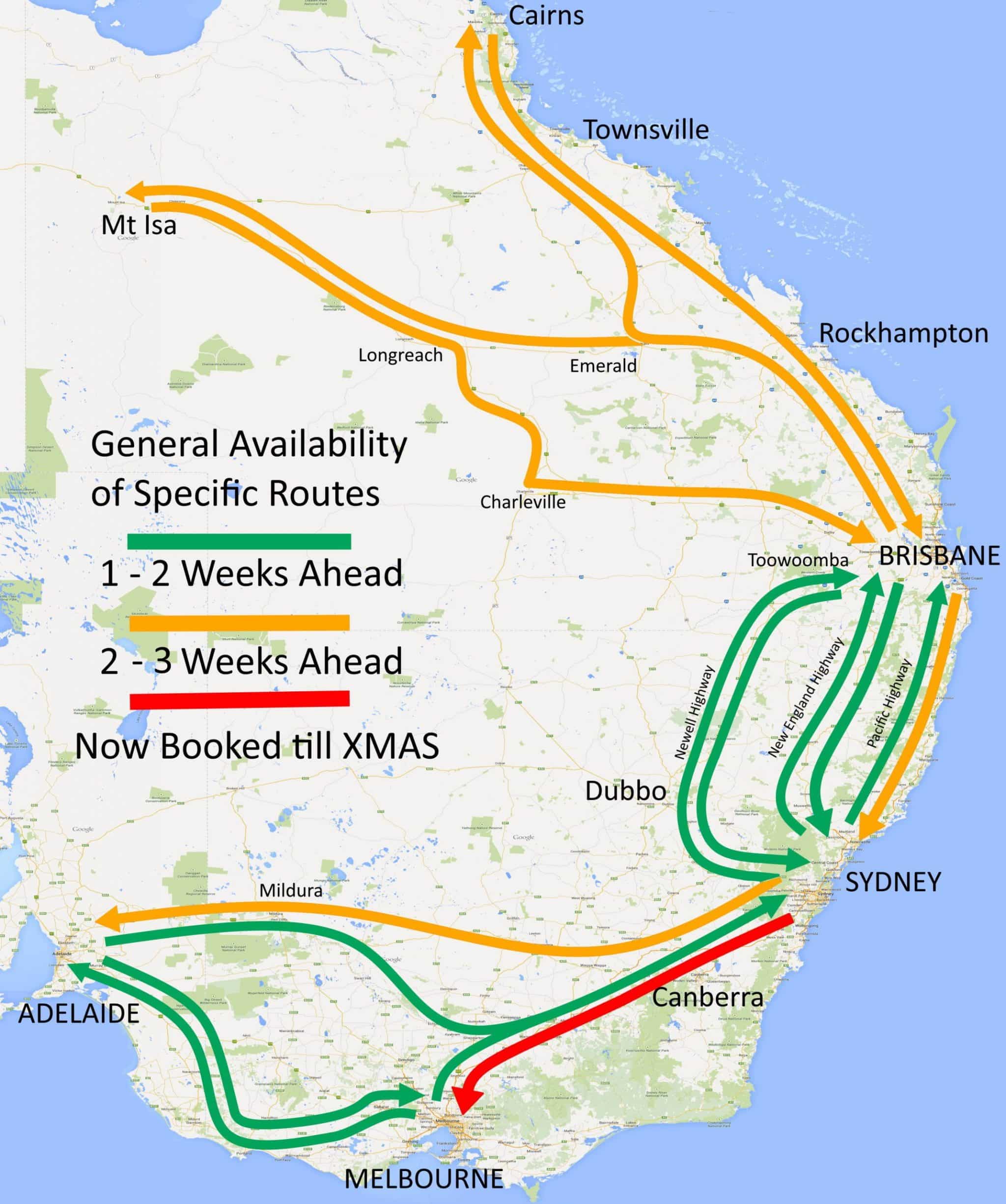 In all cases we will endeavour to respond to your enquiry as quickly as we can to give you, in the first instance an estimate of the time frame expected.
Whilst we appreciate this is inconvenient it is unfortunately unavoidable. Basic indicative pricing is available on the pricing page on our site for those who would simply like a rough idea to start with.
All new enquiries must be done on our enquiry form so we receive all the details required to provide a quote as quickly as is possible. Phone and Facebook enquiries may take longer as we often get given too little information to provide a quote.
We thank you for your patience and again apologise for the inconvenience this may cause.
Dave & Sierra
Please Note that the Phone numbers below are not being continually answered at this point to allow us to get through as many web & email enquiries as we can as quickly as possible.
You may leave a message regarding current Bookings or animals on board current runs and we will call you back.  All Enquiries should be done via our website Quote links or email us for general enquiries.
Office Phone Number: (07) 5530 2710
for bookings and general enquiries during office hours.
Normal Office hours: ( QLD time)
8am – 4.30pm        Monday – Friday
9am – 12.00pm      Saturdays
Closed                      Sunday & Public Holidays
For after hours general enquiries please leave a message or email us and we will get back to you during office hours.
We also have the following Free Call numbers for interstate customers:
1800 DOGMOVERS for Regional & Interstate Transport enquiries.
1800 PETTAXIS for Local, South East QLD Transport enquiries.
Email: info@dogmovers.com.au
Facebook: DOGMOVERS Facebook
please note that messages via facebook are generally only monitored during business hours and tend to be a less reliable form of communication than email. New enquiries via Facebook will be answerred in the same chronological order as those received from the Enquiry Form or by email for fairness.
Postal: PO Box 2534, Nerang, QLD 4211

After hours contacts regarding Animals already aboard.
If you have an after hours enquiry regarding an animal currently on board or due to be collected contact the relevant driver directly on the mobile number provided in your confirmation messages or as per the details provided to you at the time of Booking.
Please note that the drivers are not in a position to be able to respond to general enquiries, provide quotes or take new bookings and that these phones are only used during the relevant runs and are turned off in between. The driver only has your booking details from the start date of his/her run. Prior to the start of the run you will need to contact the office with any enquiries or changes.