Dogmovers works closely with many Pet Rescue Organisations and is regularly involved in relocating pets from Pounds to Rescue Groups as well as helping to transport adopted pets from the Rescue Organisations or their Foster Carers to new homes. We have a particular interest in supporting Rescue Groups operating in Regional areas and those that are making efforts to fully assess and rehabilitate pets before they are rehomed.
In the hope that it will encourage more people to choose to Rehome their next Family Pet, we offer our highest available discounts to Rescue Groups and their clients. But we also have additional programs in place to provide extra assistance to selected organisations in greater need.
20% Discount is available to Rescue groups for pets being transferred to their Organisation or its Foster Carers.
15% Discount is available to Individuals when Rehoming Pets from a recognised Rescue Organisation.
Pet Rescue Transport Gift Vouchers
To further assist Regionally Based Rescue Groups and those transferring pets from Regional Areas into main centres for Rehoming we have created $50,000 worth of Pet Rescue Transport Vouchers which we are distributing to Selected groups. If you feel your Rescue Group is in this situation please contact us to discuss receiving these vouchers which are able to be used in addition to the discounts shown above.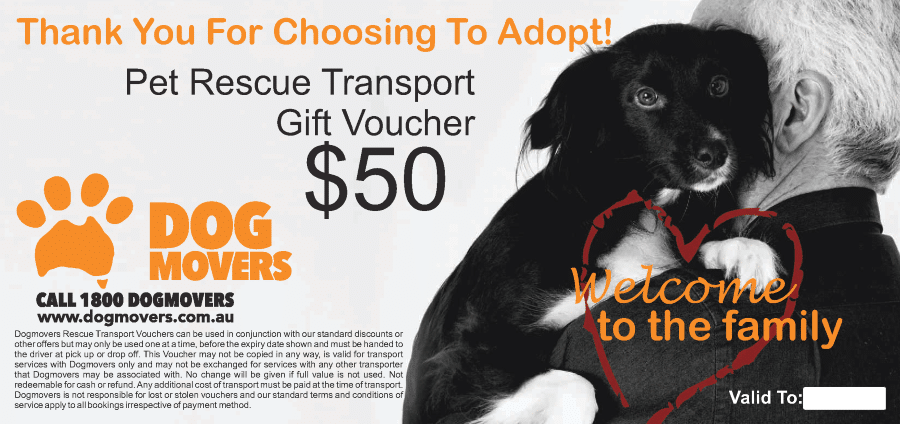 Pet Rescue Transport Discount Vouchers
To assist Your Organisation to encourage interstate clients to rehome from your Region we have available the Following 15% Pet Rescue Discount Vouchers for you to provide as an additional incentive. Contact us at info@dogmovers.com.au to arrange to have some posted to your Group.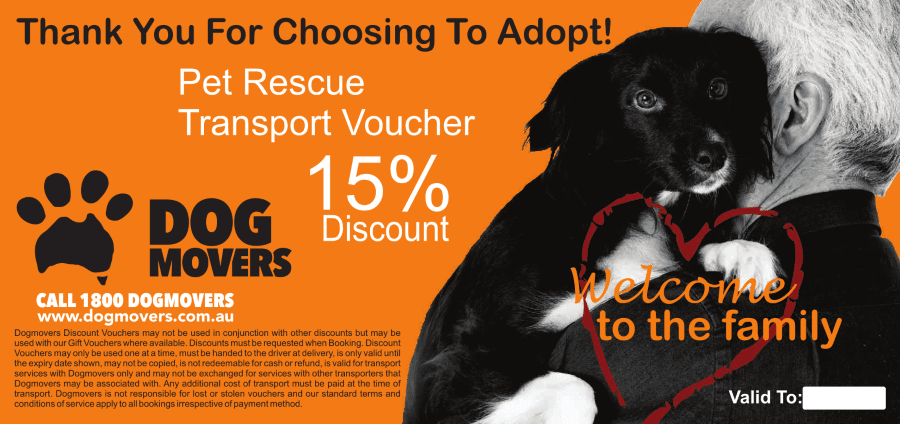 Free Transports
Dogmovers also assists Rescue Organisations by regularly Donating FREE Rescue Pet Transport services to Groups in Greater need or with an Emergency situation on their hands or by assisting with FREE transport of rescue resources.
Contact our Pet Rescue Coordinator for further information on how we can assist your rescue organisation.