The internet provides potential pet owners with a wide variety of information as well as the chance to purchase and/or adopt a pet from a wider area than would otherwise be the case. In fact recent moves to limit sales of pets by pet stores and tightening of Breeder Regulations encourage breeders to operate from outside the major cities and towns resulting in most puppies having to be sourced online. Provided you are as careful as you should be for any online purchase there is generally no problem.
However there are regular examples of both local and off-shore based scammers advertising non-existant puppies for sale, running fake rescue groups, operating scam Transport Businesses or purporting to be affiliated with actual Pet Transport businesses including ourselves.
These Scams can take many forms and while in the past they were reasonably obvious to us, lately they are much more professional looking or sounding and can be hard to pick even for ourselves so it will be very hard for clients who are not specifically on the lookout for them.
Here are some Signs Of A Puppy Scam
Prices are too good to be true, negotiable, on sale or a discounted price.
Puppy is free if you pay for shipping
The seller won't talk on the phone and only communicates through emails or texts
The only way to get the puppy is to have it delivered to you, by a transporter they arrange, you can't pick it up
You may be asked to pay by money transfer, via Western Union or another international payment transfer system or prepaid debit card (but these days many are using Australian Bank Accounts)
After you make a payment, there are suddenly more expenses (e.g., shipping insurance, vet bills, crate fees, etc.)
The seller tells you a sad story about why the puppy is for sale or being given away for reasons such as family hardship, relocation or death
The puppy's photo is in other ads (discovered when you do a reverse image search)
See further signs here: how-to-spot-a-fake-website
Largely this page is about scams that may involve the use of Dogmovers Name, images or details. And it is likely if you are reading this it is because you have come to our website to check we are real. But these scams are increasingly widespread. For further info about scams and scammers in Australia in general or to check websites, phone numbers or email addresses against a list of known scams you can check out these other useful Websites and Facebook pages as well.
Puppy Scam Awareness Australia Website (Listings of known Scam Sites, phone numbers and emails plus Support for Victims of scams)
(The Puppy Scam Awareness Australia group are the most active and responsive entity that I am aware of with respect to direct assistance to people who have been scammed and are actively working hard behind the scenes to report, stop and shut down both Scam Breeders and Scam Transporters in Australia and we recommend them in this regard. They do also include directories on their site of approved Breeders and Transporters and we would fully endorse those Breeders and Transporters on the basis of PSAA's recommendation. However we would point out that these are relatively new directories and inclusion in these directories are Opt in, paid listings and that the vast majority of genuine and professional Breeders and Transporters are not included at this time. Be aware also that many scams are based on the fact that the names and registration or ABN numbers of genuine Breeders and Transporters are used by the Scammers to make themselves seem more legitimate.)
Puppy Scam Awareness Australia Facebook Page (Requires you join the Group)
Puppy Scam Education Page with ANKC Breeders (required to join Group)
puppyscams.org (website with listing of known scam sites)
In the past we have seen that nearly all Pet for sale Ads placed on the Online Trading site "Cracker" were Scams along with many on the "Trading Post" and some at times on "Gumtree" or "Pettrader.com.au" but also so many more. Often, the puppies do not exist at all, the photos are just cute photos taken from the internet.
Over many years we have seen instances of our name and logo being used in relation to scams in North America as well as in Australia but we have also seen other Pet Transport Businesses names used in the same way. At times complete fake websites are built with names, phone numbers and addresses from a mix of real businesses.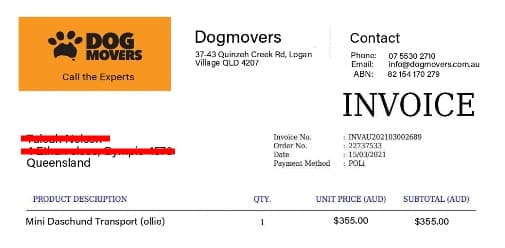 The sample invoice shown here is a copy of an invoice sent to a buyer which include a modified copy of our logo and our real address, phone number and ABN. We have now seen similar examples of this from a number of victims (Early 2021) and know of examples using a mixture of our details with other transporters. These are really hard for Buyers to spot because they seem so real. In the end, the only real way to be sure whether or not you are dealing with us directly is to call us on our Office Landline at (07)5530 2710 or email us at info@dogmovers.com.au.
Many breeds of Puppies are being advertised in such Scams but common ones are Bulldogs and French bulldogs. In many of the instances we are aware of the pets concerned are advertised FREE. Any money requested may be for transport, insurance or vet services prior to or during travel. Often once the animal has allegedly been sent you will be contacted to urgently pay additional fees for Delivery, insurance or veterinary checks because the Authorities have seized or are delaying the shipment. (This does not happen in Australia with Interstate transport)
As you review the Ads and any other correspondence you may observe frequent errors in spelling and significant errors in sentence structure. But, unfortunately scammers have become much more sophisticated and often now this is not the case. It is also common for the ad to be placed in one town only for you to be told, once you make contact, that the seller had to move suddenly and the pup will have to come by freight from another location. They may be reluctant to talk on the phone and may only correspondence by email or SMS. They may be reluctant to provide you with flight details, airline schedules, and air cargo or Way bill tracking numbers or will only provide you with information after you have wired them additional funds.
In many instances the scammer will ask for additional payments for Insurance, health clearances etc once the Pup is already on the way. I am not aware of any Domestic (Within Australia) Pet Transport businesses that require seperate payments for Insurance.
If it seems odd, call us and check. Ask for new photos showing the same pup as in the ad with todays date written on a piece of paper to ensure there is a pup. Ask for the number of a previous client to call as a reference.
If they are using our name check the following. Dogmovers is based in Australia, with a QLD depot near the Gold Coast/Brisbane at Logan Village and our Head Office is in Advancetown near Nerang. We also have a Depot in NSW at Morisset. We have only one office that processes bookings in Australia and we are not involved with international transport of pets of any kind. We transport pets only within in Australia and we normally transport pets by Road. Occasionally by Air but only at your request. Email us the booking details you have been given at info@dogmovers.com.au. We can easily confirm whether the details are correct and that your booking is with us. Better to be safe than sorry.
We have no partners or affiliates. We do work closely with some other pet transport businesses however it is still normal for us to directly contact both the Sender and Receiver directly by phone or email to finalise any arrangements concerning bookings with us prior to the pick up. If you are unsure whether you are dealing with us directly call us on our Office Landline at (07)5530 2710. We do at times finalise details via email and this may happen if you initiated your booking by email or are a regular client. In these cases the Dates, times and locations of the pick up and drop off will be detailed along with the contact details of our driver. Additionally we do send confirmation SMS or emails with these same details but we have also seen copies of scam versions of our own confirmation messages.. Again, If you are unsure call us on our Office Landline at (07)5530 2710.
It is our policy not to collect an animal until we have confirmed the necessary meeting details with the receiver to ensure we will be able to deliver it. So we should never have your animal onboard already unless we have already been communicating with you.
Additionally in most cases payment for our services is only made after direct discussions with one of our consultants. Payment may be made by Internet Bank transfer, credit card (By phone with us directly), using Paypal or ZipPay. In the event that a client chooses to pay via credit card or internet Banking the details are currently relayed directly from us by phone. We do not hold bank accounts outside of Australia. We do not accept payments by any form of International money transfer such as Western union.
Our Bank details for all payments are only ever: Bank: Commonwealth Bank   BSB No: 064 489   Acc Name: Dogmovers   A/C No: 1007 2594
If we call you for a Credit Card Payment and you are unsure or wary end the call and Call us back on (07) 5530 2710
Reporting a Scammer
How to Report a puppy Scam in Australia
If you wish to report a scam you can contact the following Queensland links or locate similar organisations in your own state.
Queensland Police Computer Crime Investigation Unit
External email – cciu@bigpond.com.au
Telephone – 61 7 3364 6943 or 61 7 3364 4113
Facsimile – 61 7 3364 6549
Brisbane Office of Fair Trading
Email: BrisbaneOFT@dtftwid.qld.gov.au
Level 21, State Law Building, 50 Ann Street, Brisbane
GPO Box 3111, Brisbane, QLD, 4001
Facsimile: (07) 3246 1589
Nationally, Scamwatch is part of the ACCC
http://www.scamwatch.gov.au/content/index.phtml/itemId/694011
Heres a link to an international site listing scam websites
https://petscams.com/category/puppy-scammer-list/
If you have any other info that you think I should ad to the above let me know. I can be contacted by email at info@dogmovers.com.au
David Gallagher,
Dogmovers