Brachycephalic Pets are dogs & cats with broad, short skulls. The word itself is easy to break down, with "brachy-" meaning "short" and "cephalic" meaning "relating to or of the head."
Truly brachycephalic dogs score 80 or above on something called the cephalic index. Calculating a dog's cephalic index is easy: Multiply the width of the head by 100, then divide that sum by the length of the head.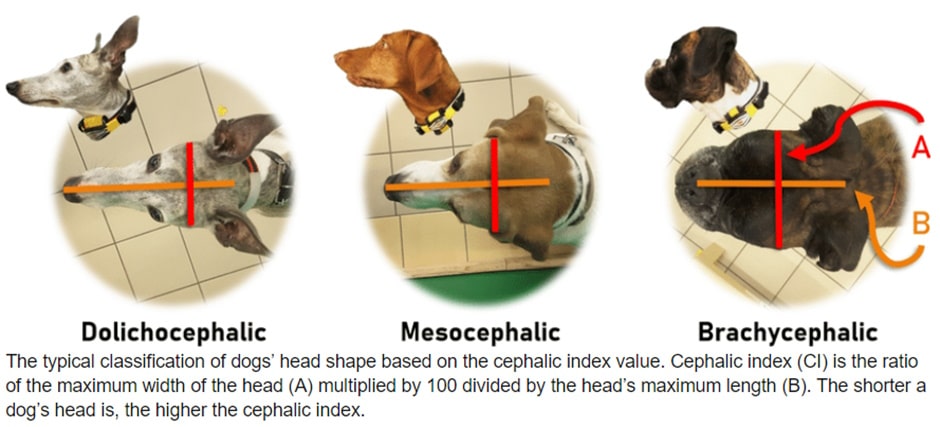 While brachycephaly is characteristic for some domestic varieties and breeds (e.g., Bulldog, Persian cat, Niata cattle, Anglo-Nubian goat, Middle White pig) it is considered pathological (not natural) and is typically not found in naturally occurring species. For instance, no wild or originating dog species have a Brachycehalic head shape.
Features of brachycephalic animals
Brachycephalic animals, including dogs and cats, have an exaggerated short and wide skull, and their bottom jaw is disproportionately longer than their upper jaw (commonly known as an 'undershot' jaw). These abnormalities are a result of selecting features to comply with pedigree breed standards, where the focus has been on physical traits and appearance rather than on traits that will maintain or improve the health and welfare of the animal.
There is a wide range of Brachycephalic breeds and the flatter the face the worse the problem. Brachycephalic dogs & cats can suffer from a range of health and welfare issues including breathing problems, digestive issues, eye diseases, difficulty giving birth, spinal malformations, exercise and heat intolerance, sleeping difficulties, skin and ear diseases, as well as dental disease
The most significant problem for these breeds is Brachycephalic obstructive Airway Syndrome, BOAS for short. This condition results in an animal having narrowed airways and may restrict  the pets ability to breath properly or regulate its body temperature after exercise, when it is warm or just because it becomes anxious or stressed. These issues that will not cause harm to a normal healthy pet in Brachecephalic breeds can lead to the animal fainting, becoming heat stroked or dying. This condition is the leading cause of veterinary intervention or death during Pet Transport. For more information on the BOAS condition please visit this page What is BOAS
Dogmovers classification of High, Medium & Low Risk Brachycephalic Breeds
The 6 High Risk Brachycephalic Breeds:
Aussie Bulldog
English Bulldogs
French Bulldogs
Pugs
Pekingese
Shih Tzu
High Risk breeds are the breeds in which the majority of individuals are affected by BOAS. It is common for owners of these breeds to believe their Pet is normal and to underestimate the risk of transport. In these Breeds corrective surgery is commonly required for the animals' long-term health.
The 16 Medium Risk Brachycephalic Dog & Cat Breeds:
Affenpinscher
American Bulldog
Boston Terriers
Boxer
Dogue De Bordeaux (French Mastiff)
Griffon Brussells
Japanese Chin
King Charles Spaniel
Lhasa Apso
Pocket Bully
Staffordshire Bull Terrier
Tibetan Spaniel
Cats

Chinchilla
Exotic Short Haired
Himalayan
Persian
Medium Risk breeds are typically breeds in which the Brachycephalic head is a definite feature of the breed but while BOAS is common it is not expected to affect the majority of individuals or to regularly cause severe outcomes. For many of these breeds, such as the Boxer, there is a wide variation between barely noticeable and serious BOAS. In other breeds, such as the Staffy, the majority of individuals may not show any sign of BOAS but they have an increased risk specifically due to other common breed issues such as a propensity towards obesity, anxiety or excitement which are all exacerbating risk factors.
20 Lower Risk Brachycephalic Dog & Cat Breeds:
American Bully
Boerboel – African Mastiff
Bull Mastiff
Cane Corso Mastiff
Cavalier King Charles Spaniel
Chihuahua (Apple Headed)
Chow Chow
Chug
Mastiff (English)
Neopolitan Mastiff
Newfoundland
Pomeranian
Rottweiler
Shar Pei
St Bernard
Tibetan Mastiff
Cats

British Short Haired
Burmese
Scottish Fold
Scottish Shorthair
The Low Risk breeds are typically breeds that are borderline Brachycephalic or where only a small number of individuals, typically poorly bred ones, would be expected to be affected by BOAS. Some breeds, such as the Newfoundland are often not categorized as Brachycephalic but are included here due to other common health risks such as their size, a propensity to be less heat resistant, common chronic issues in the breed or where their shorter noses may have a worsening effect if they are affected during transport by age, obesity, stress or illness.
For more information on the BOAS condition please visit this page What is BOAS