NSW Central Coast based role, August 2021
Thank you for your interest in the role of Animal Handler / Driver.
This Position has now been filled.
We have a current vacancy for an additional Pet Transport Driver/Animal Handler based from our Morisset, NSW facility. The following information is provided to give prospective applicants additional insight regarding the role before applying.
Dogmovers is a small family business based in South East QLD with an additional local depot near Morisset on the NSW Central Coast. We transport pets, primarily Dogs & Cats, throughout Queensland, NSW, Victoria and South Australia. We operate similarly to a long distance bus service with a number of set weekly trips operating to a regular timetable plus we provide more Specialised Customised services on demand.
We are seeking to employ a Committed and Caring individual with Demonstrable Driving and Animal Care experience to join our NSW team. This can be both a demanding and rewarding role. Based on the Central Coast you would make regular Interstate trips and may be away for multiple days at a time. The most common trips would be between NSW and Victoria or South Australia but with the possibility of some regional Day trips. You would be operating independently but alongside other team members and with the full support of a wider support team. Whilst this is a Casual position it is expected to involve regular scheduled trips and to be a permanent role for a suitable applicant and includes:
On the Job Training and support.
Small Family Based Business.
Growing company within a thriving industry.
opportunity to Bring your Pet (or Partner) to work
Animal Care
The Pet Care duties of the job involve all aspects of animal care. Primarily this means feeding, keeping the animals cages clean and tidy and walking the dogs but you will need to be constantly aware of and responsible for the general condition and wellbeing of the animals in your care.
You will be handling a range of animals, mainly dogs but also cats, poultry and the occasional young livestock etc. and there are some obvious and commonplace risks associated with animal handling. Whilst for the majority of pets, road transport is a very positive and exciting social experience, some pets are less social and can be nervous or afraid requiring experience and a calm and patient attitude. Additionally you may be required to handle some very large or boisterous dogs at times or those that may not have the best of lead manners. Both physical strength and strength of character are advantageous in these situations. Some demonstrable experience or affinity with dogs and animals in general will obviously be an essential aspect of the successful applicants resume.
Driving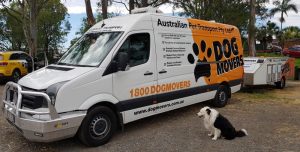 While no special license is required, we typically use a range of manual and automatic vans or small buses towing a range of small to large animal float style trailers.  It is necessary to have some experience in larger vehicles, towing or long distance driving and you must be able to drive manual vehicles. The typical length of our Van & trailer combinations is around 11-12 metres long with a combined weight of  3 – 4.5 tonnes loaded similar to towing a small to medium caravan or a horse float. Some basic mechanical aptitude would obviously also be useful as it is inevitable due to the high mileage we cover that breakdowns, punctures and mishaps do occur from time to time. You will need to be able to handle aspects of those issues and communicate current or new issues to support staff. Plus, of course you must be an experienced and competent driver in the City, Freeway and Country conditions, including night driving and under all types of weather conditions.
Interstate services
The interstate aspect of this role makes it a demanding job involving long days on the road. It would be expected you may be working 13 to 16 hours per day, which would typically include up to 10 hours driving and up to 6 hours combined in Pets Care, Customer Service and related duties. Initially these trips will typically entail 2-3 days on the road and regular nights away from home. The primary role we are wishing to fill includes a fortnightly trip from the Central Coast to Melbourne on Saturday & Sunday, returning early afternoon on Monday. However it is expected that additional work opportunities will quickly become available you are locally based and it is reasonable to assume this could form a full time role.
Our vehicles and trailers have built-in cages of various sizes to cater for everything from tiny puppies to very large dogs. The number of animals transported on any given run can vary greatly as we offer a range of service options. On our more common weekly express services it is usual to be moving 10-20 pets at a time but on other services we cater to smaller groups or individual Pets.
Accommodation is generally catered for within the vehicle so you will be close to the animals for the whole trip.
Tasks & Responsibilities
Driving Interstate routes between NSW and QLD, VIC, & S.A.
Customer Service & Record management
Walking dogs, Pet Care & Feeding
Monitoring & Assessing animals Health & Wellbeing
Time Management & Daily organisation
Liason with other Drivers and Transporters
Basic Motor Vehicle and Trailer maintenance & trouble shooting.
Qualifications and Experience
A competant, confident and experienced Driver.
Experience working with and Handling animals.
Reasonable level of Health and Fitness
Ability & Willingness to be away from home for multiple days.
Manual Drivers License and towing Experience
Suitability and Aptitude
We have to be particular about who we employ for such a role. Many people are initially attracted due to a desire to work with animals, however this can be a demanding position due to the long days and time away from home and it therfore does not suit most people. The majority of our current staff have been with us for between 6-15 years and we are very focused on employing staff we feel will be suited to, and enjoy the role for the medium to long term.
We will consider everyone on their merits however in general we are looking for someone with the following qualities:
Living in the NSW Central Coast area. Our main base of operations is in QLD with a back up base near Morisset on the Central Coast from which this role will be based. As an interstate driver you will typically only have to get to and from work once a week so you won't have to be super close. However I would suggest that a 2 hour drive is about the most you would want to be commuting and the closer you are the more flexibility we would have in the type and regularity of work we could provide you. You will need your own reliable transport to and from work.
Mature, at least in mind if not in body. We have obvious issues relating to driving experience and motor vehicle insurances dictating that we ideally employ drivers over 25 years. But we have also found that a more mature person usually takes a calmer, more balanced attitude towards the animals and the job in general and is more settled in their family and social life. Provided you are fit and healthy enough for the role age is not a barrier, many of our drivers are in the 40-60 year age bracket .
Reasonable level of health & fitness. Long days, long periods driving, dietary constraints from continuous Interstate Travel, Sleeping in the van with the animals and walking large boisterous dogs. These are just some of the things that will at times tax your physical limitations on the job, especially in your first few weeks. You don't need to be exceptionally strong or robust but you need to be very realistic about your abilities and consider any limitations or health issues you do have.
A suitably flexible home or Family life. The role is generally not suited to a person with young children or someone that is not used to being away from their partner regularly. In some cases even pets at home can be a limitation. In most cases we are Ok with a Pet travelling with you or even a Partner or family member at times.
Looking for a long term Role. It will take around 3-6 months to settle into this position fully so it is not suitable as a temporary job. We have drivers and other staff that have been with us for up to 15 years and we take pride in having a low turnover in staff. We place much emphasis on this aspect in the way we view applications.
A competent, confident and experienced Driver. You will need to be able to drive in all conditions, country and city, day and night, towing a trailer. You may ultimately be covering over 100,000 kms per year. Some basic mechanical aptitude is important and confidence behind the wheel is essential. You must be able to drive a manual vehicle.
A confident GPS user / Navigator. Mostly we stick to well defined routes that we use regularly. We have regular pick up points in most towns. But we also need to collect pets from peoples homes at times and the area we cover is immense. You will need to be able to find your way around easily both in the country and in major cities.
Service Orientated. We have worked hard to build our business through the provision of a superior service and a professional attitude. We cannot please everyone all of the time, but we do try and this needs to be reflected by our staff in their attitude towards our clients and the professional and careful handling of their pets.
Experience working with and Handling animals. Wanting to work with animals is not enough on its own and does not make you an ideal applicant. We need someone that is clearly confident with and will care well for the animals in our care and be able to deal with emergency situations if required. Some significant experience breeding, showing, caring for or training animals or a farming background would be an obvious advantage in this respect.
Remuneration
This is expected to be an ongoing Casual position. We pay our interstate drivers a fixed rate, including tax free allowances, for each trip. As a casual position there is no Holiday or Sick leave but normal Superannuation is paid.
This role may initially be quite varied as it develops so it is not possible to give an exact starting income for the job. However as an indication we would expect approximately $950 less Tax for the 2 1/2 day trip each fortnight plus superannuation.
You would be expected to provide your own food and personal items but all vehicle, equipment and business related costs are paid by Dogmovers.
Well hopefully that gives you a better insight into what the job entails and the type of person we are looking for, obviously it is a bit of an unusual role and if you now feel it is not suitable given your situation or the type of future role you are seeking, we thank you for taking the time to consider it.
If interested please submit your application along with your resume via email to: dave@dogmovers.com.au
Thanks,
David Gallagher
If, due to the location or timing, this current role will not suit you, but you are interested in hearing about future roles that may become available within our business, please register your interest by sending your contact details and a brief of your life experience to dave@dogmovers.com.au and we will notify you of future roles.